Is the area around the Dungeon safe?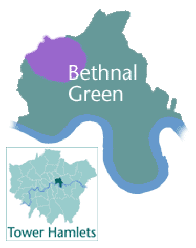 Yes. It's not just extremely safe it's also extremely fashionable.
The Dungeon is the Dungeon Keepers home, (Since 1980) and is situated in seriously hip E2, Bethnal Green a "Hamlet" of the Inner London Borough of Tower Hamlets.
The location is within the sound of "Bow Bells" (the bells of Bow Church) which means if any one was born in the dungeon they would be a qualified (kinky) cockney. This is the real East End, not a ridiculous parody on the television. It is a vibrant community actively participating in the 21st Century making a unique and vital contribution to the social, cultural and economic life to the most fantastic principal city in the world; London.
The dungeon is centrally situated just outside ye olde "City of London" and near the much loved Victoria Park and the 2012 Olympic Park, and is surrounded by tourist attractions, fashionable bars and restaurants.
The East End is the most historical part of London and is full of fascinating places of interest. More info here.
If you enjoy inner city life, and feel comfortable exploring the incredibly rich historical legacy of Britain's capital city, its treasure trove of culture and its fantastic thriving fetish scene than you will find the East End of London one of the most fascinating and welcoming places in the World.
If you want to know more this external link has some interesting information about Tower Hamlets. The area has been transformed over the last 20 years... with soaring property prices and rocketing rents... sure signs it is now one of the most attractive and fashionable parts of Central London.
The area has lots of fascinating places to explore which you could combine with your visit to the dungeon and our FAQ on making a day of it outlines some of these possibilities. The dungeon is adjacent to the extremely fashionable Shoreditch and Hoxton areas and also only a short journey away from London's Theatre Land: the West End.
London has very many fetish clubs to choose from and the dungeon is ideally situated to prepare for a visit to a fetish club, many are located quite close by (some walking distance). We particularly recommend the fetish clubs listed in our Listings Section.
If you are considering a Kinky City Break this area of London is a perfect location from which to explore the rich London Fetish Scene and also the more conventional tourist attractions.
Information regarding accommodation here.