Who is the Dungeon Keeper?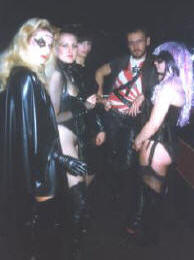 "Oh he is a slave from way back" (and the word "slave" was said with a sneer; a bit like a Bob Dylan lyric, "he's an artist an he don't look back").


Well he is now as I recall that remark. I was embarrassed, but not as much as my friend, Helen, who had heard it with me from the aged, drunk and very stoned TS Dominatrix with ripped saggy fishnet stockings leaning against the bar at a kinky gathering in 1989...

Well now, 30 or so (who is counting?) years on, I am a slave from even more "way back" and proud of it! I am a life long perv, who made his first visit to a pro-domme at 16 years of age. In those days they were hard to find, nowadays it seems every gal is trying to be a Mistress... Isn't it cool? But it was always cool! And to prove it the snap above was taken at Club Maîtresse in 1983.

That's me with the beard and 4 "hot" chicks!
The Dungeon Keeper having his hands tied by Mistress Donna on the front cover of
Skin Two Magazine; Issue One in 1984.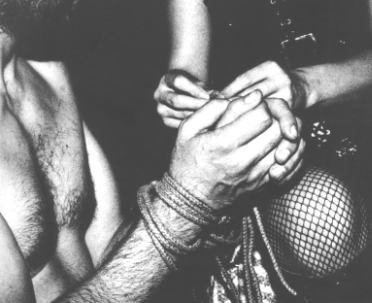 Actually DK's "front cover" modelling career
was not quite over... He was destined to appear on the front cover of Ishmael Skyes classic "Free Wealin" about a decade later.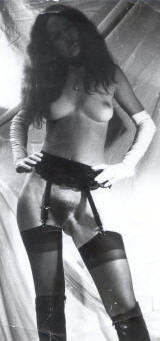 But the fun had started even earlier than that. Here is a photograph I took in 1976 of my first love. We were both students together at "Uni" but in those days one did not call it that. Not many were allowed in, it was FREE, delightfully elitist and the Government gave you a grant to go!
We lived in sin, as we liked to think of it, for about 3 years. They were some of the best years of my life. She was a Scorpio... a natural kinky, hippy, witch, as bad as she looks! It did not take much to get her interested in the bizarre and unusual...
Lesson learnt very early... don't be scared to share your ideas!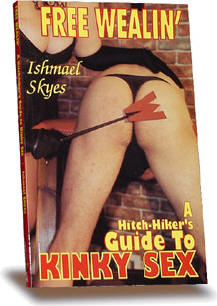 But as you can see the world was still not yet ready for his face.
The cover photo was taken in LDH...
So the Dungeon Keeper is like you, perhaps? Struggling through life, just trying to make sense of his thoughts, his feelings, his relationships and surroundings. And still enjoying it all very much!