Mistress Fhionna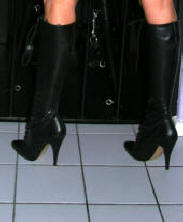 A marvel! A unique experience filled with excitement.
A pure delight and obviously a passion for it's keeper/owner.
Every room has been lovingly transformed to provide any player with a dream come true. All the equipment has been installed, prepared, and cared for perfectly. All the rooms have been created with an individual atmosphere and the use of the ceramic tiles on the hall floor add that extra special something... My slave shivered in his bonds at the pronounced sound of My heels.
My/our three hour stay was just not long enough. I would hope to go back for longer. Perhaps a month would do it...