Phil & Sammy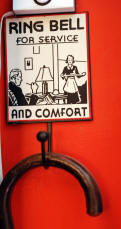 This was our first visit to LDH and I guess that it's fair to say that we were both a little apprehensive but the Dungeon Keeper is a very friendly and charming man and that put us instantly at ease. He gave us a tour of the rooms and instruction on how to use some of the equipment then made a discrete exit and left us to play. The DK is always on hand to offer assistance if required and at one point we did ask for his guidance on one particular piece of equipment.
I was simply amazed at the range of equipment that is available, I think the dungeon has everything and if it does not have it then it's probably not worth having. Every item is spotless and in pristine condition. Because of the vast array we only had time to play with a few items, so we will be returning just as soon as we can.
Our two hour booking went by in the blink of an eye and the cost that we incurred for the two hours was worth every penny, the fees charged are absolute value for money for the service and range of equipment on offer and we are very much looking forward to our next visit.
Anyone who is hesitant about visiting LDH… take our advice and go, you will enjoy every minute.