Kaz B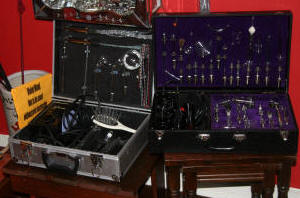 I attended the dungeon recently and was very impressed with the introductory thorough tour, the cleanliness of the establishment and the sheer variety of implements, toys and treats available to play with!
Aside from the usual crops, paddles, harnesses and masks there was specialist bondage furniture available, an amazing collection of stiletto's and implements of fun such as the violet wands. All of it was pristine and the dungeon keeper was extremely helpful and explained how to use some of the more unusual tools and toys.
If I lived a little closer I would use it a lot more and would highly recommend it whether you are looking for somewhere to play for a couple of hours or somewhere you can take a slave!