Our Electric Violet Wand sets are suitable for beginners and advanced players.

Beginners will need some instruction in appropriate and safe use of this equipment. This training is included in your hire if you require it.

We recommend you start with the Primus set to begin with as illustrated here.

In addition to the extensive range of glass, electrodes there also very many metal devices plus a hands free device. This means that any metal toy in the medical cabinet can be used in conjunction with either of the violet wand sets.
The Primus Violet Wand Set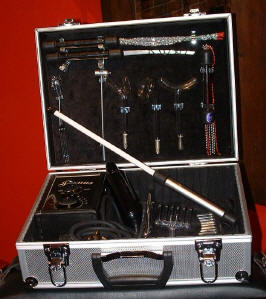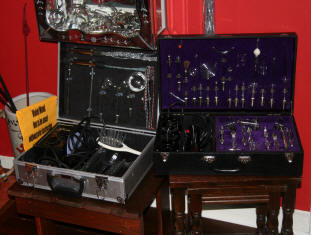 The Primus and Felma Sets
Here you can see the Primus set with the Felma set. A much sort after collectors item... the Felma is reckoned to be a Rolls Royce amongst Violet Wand aficionado's.
All electrodes are interchangeable between the three Wands available.
The 22pc Felma Set is only recommended for those who have had previous experience of the more straight forward Primus set or similar units.