Lady Jenifahr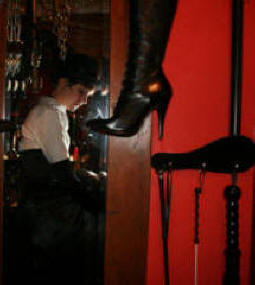 The purpose of our visit to the London Dungeon was to enjoy an atmospheric setting to inspire some new photographs for my web site and the dungeon delivered this and much much more!
The wide variety of quality equipment was a feast for our eyes and the professionalism and care in which they were displayed is to be commended. Small touches were noticeable from the artistic display of the whips and floggers to the small labels indicating size on all footwear (a very simple but practical idea!)
Casting an eye over each room you canít help but notice the quality of chosen furniture Ė a particular favourite of mine has to be the Fetters whipping bench with the throne coming a close second, certainly majestic enough for any Mistress.
All of these elements work together in such a wonderful way to create a warm, relaxed and friendly atmosphere that is testament to the time, effort and enthusiasm the Dungeon Keeper has invested in his domain.
Although sadly on this occasion we only had time for photographs, we will be returning to the Dungeon for some more fun very soon.