Sexy Slave Slut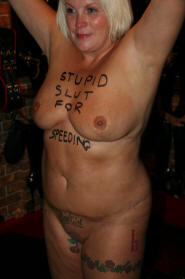 Itís been four years since my master last took me to LDH. We live in Scotland, so getting down is not so easy and it has to be a special occasion. We loved it on our first two visits and we loved it all the more this time. There are so many things to explore, we were there for three hours this time and we need to come back again in the future because there is still more we must do. What has been added since our last visit in 2008 is amazing!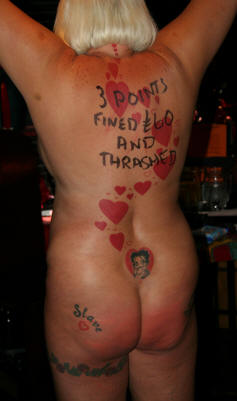 The main reason for our visit this time was that I had been a naughty slave girl and got caught speeding by the police. 3 points on my license and a sixty pounds fine that Master had to pay! In Masterís view I should have received corporal punishment in the village stocks for all to see. Hence my visit to LDH for a good thrashing. Master thinks this punishment for speeding is a deterrent. Some might think it will have all the slave girls putting their foot on the pedal hoping for similar treatment!!
My Master believes that no punishment is complete unless I am totally humiliated. Public Pillories are no longer used, but he thinks the internet is a wonderful way in the modern world to ensure suffering miscreants like me get to be seen by so many more people.
We both thank the DK for the wonderful afternoon at the dungeon and posting the photos of me with my crime for all to see here.
My humiliation is all part of the punishment.
Thank you