The Suspension Beam in The Reception Room houses three winches, one mechanical and two electrical.

All are powerful solid devices capable of supporting the heaviest individual completely off the floor.

One Electric Winch operates the spreader device. This comprises of two wrist cuffs and two ankle cuffs and as the winch is operated the person in the cuffs is stretched out in a vertical x shape.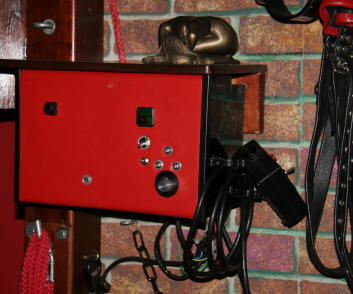 The electric winch is controlled from a remote switch which enables you to get up close and personal to your partner to adjust tension as required. There is a speed control so the movement of the winch can be fast or slow.

The Second Electric Winch operates the The Pig

The third winch, a mechanical hand operated one, operates the Suspension Bag.