This ultimate Strap On Experience. is NOT for novices or the faint hearted.
A fully adjustable leather harness can hold a fearsome array of steel phallus. Some are extendable with different tips,
Two modes of operation... "posing" where the phallus is fixed at a jaunty angle or "operational" mode where the angle is flexible to allow for easy & shattering penetration.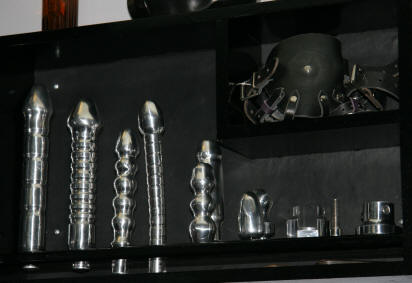 Please note that this kit can cause serious damage, for the novice it's best used for posing or psychological threat only. The Dungeon does have other less advanced strap on equipment for those who prefer to be broken in gently