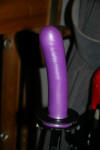 To be used more sadistically, fix the spreader bar to the floor. Make your captive get all the way on their tip toes and then raise the dildo and insert as far as possible. If they now attempt to put their heel down to rest, the dildo will further penetrate them if there is room! If not the captive will be forced to remain on their tip toes totally impaled. There are a number of places in the dungeon where this could be achieved.
Any flared based dildo, less than 1.75 inches in diameter will work with the rod and the dungeon supplies a full range of dildos, (small to xxx large). These dildos can be found in the box that is displayed with the impaler on the door to The Chamber of Dreams.
NB: Always use a condom with penetration devices, You are expected to bring your own condoms, but if you forget or run out there are ample supplies in the Emergency Box.