Its spring cleaning time!
But don't worry everything will be ready in time for your next booking!
As you can see our dungeon Maid Recruitment Programme has been a stunning success and we now have a team of dedicated cleaners slaving away to make sure every thing is pristine, fresh and cleansed for your kinky pleasure.
Good News: We have continued to acquire a steady stream of exotic additions to the dungeon.
They said we couldn't do it; but we have! Even more wonderful kinky toys have been added for your pleasure and enjoyment.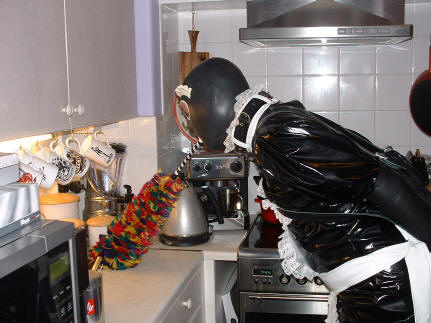 Dungeon Maid Tweenie: tireless in his dedication to scrub, suck, and polish every inch to perfection...
We are very proud of our truly unique resource, we are the ONLY dungeon in London with "exclusive for hire" facilities. We don't have any resident pro - dommes. This is just a life style environment for lifestyle adventurers!! All welcome, novice or veteran, if you love BDSM you will love London Dungeon Hire
Hire Charges
Current hire charges are always indicated
on the ARRANGEMENTS page.
Hire fee includes use of all 3 equipped dungeon rooms,
all dungeon equipment, bathroom/shower, kitchen & WC