Mistress Akella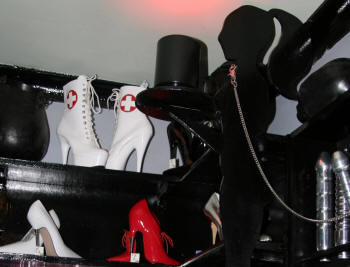 One of the first places in London that I sessioned in was London Dungeon Hire. I have to say that out of all the dungeons I have ever been in it is probably my favourite. It is like an Aladdin's cave of delights and treasures. It is so full of toys, instruments and many other devilish paraphernalia that one doesn't know where to start!!!! Each time I have returned, there is always something new, exciting and unusual to try.
On my last visit we tried the vac bed. I enjoyed myself greatly while my slave squirmed under the rubber, even more so when I cut off his air supply as I did frequently with glee!! Apart from that I love the collection of shoes and boots on the walls - incredibly sexy and the isolation chamber is perfect for locking my slaves and subs in while I change or just to leave them there and allow their mind to play tricks on them :)
I love the fact that the dungeon keeper has filled the dungeon using his imagination, fantasy and understanding of what makes a fantastic atmospheric dungeon. Everything is well thought out and there is nothing random. Everything has a purpose and it is wonderfully practical.
It is wonderful to use a dungeon where the Dungeon Keeper is somebody who is so understanding of BDSM needs and what is needed to make a wonderful session.
All in all, I love London Dungeon Hire! It gets a resounding thumbs up and I would definitely recommend it to anybody and everybody.