Sardax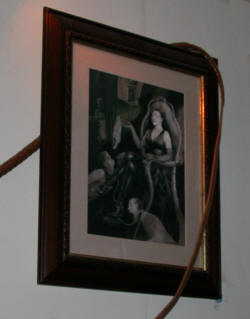 It's always such a delight to visit the London Dungeon Hire. In fact it could equally be called the London Palace Boudoir Hire as it has an intimacy and warmth that the word "dungeon" hardly conveys.
You'll see quite a few Sardaxes around the place, commissioned custom artwork, prints and let's not mention the "For Ladies Only" cabinet!
Recently a friend of mine from Australia came over to London and I met him here with the Dungeon Keeper and an English Domme that my Australian friend had always wanted to meet. It was such a pleasure to be able to show him a place which had been lovingly crafted and furnished, and not just a standard dungeon with mass-produced equipment. His eyes were more on beanpoles than stalks as he struggled to take in the wealth of fetishy objets d'art.
Next time he makes the world trip he says he'll be back for a session... I'm sure.