Mistress Arella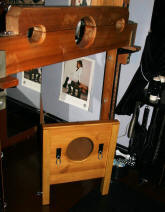 I went to this dungeon twice at the beginning of my pro-domme career and found it extremely exciting and well-kept on both occasions. As it consists of 3 fully equipped dungeon rooms you will have fun, guaranteed! Initially My sub and I booked two hours but two hours is not enough to try all those interesting instruments as well as all the furniture of impressive quality.
The Dungeon Keeper is very friendly and helpful. He made sure we knew how to use the equipment we asked him about before we started playing. Afterwards, at our request, he phoned for a cab for us and we chatted and had a drink with him whilst we waited for it to arrive.
The Dungeon hire rates are very reasonable in comparison with other, less equipped Dungeons I have investigated. I certainly will go there again!