The Marquise and clyde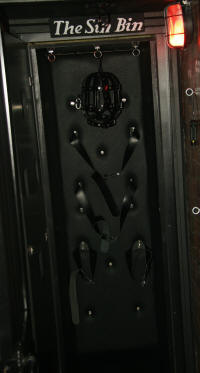 The Marquise first visited the venue at London Dungeon Hire many years ago but this was Her first return visit in sometime. She was impressed by how it had developed. clyde was fortunate to be allowed to accompany Her. The facilities are excellent and there are enough items of equipment to keep the most kinky busy for a month of play. The Dungeon Keeper is informative and friendly without being overly intrusive. There are several themed spaces all kept spotlessly clean and the carefully put together soundtrack helps create a fine overall ambience.
This space would be good for Pro-Dommes and their clients, photo shoots or experienced life-stylers looking for a treat! We both thoroughly enjoyed out time and certainly would use this dungeon again.
The Marquise adds.... I liked the sin bin best, that in combination with the hypnotic equipment I find very horny indeed. The sling thing was great. Also really liked the punishment gloves. Music was fab, service superb and it was all the thoughtful touches I liked.
It shows it not to be a purely commercial concern but run by genuine enthusiasts with a passion for what they do.