Charles Marriott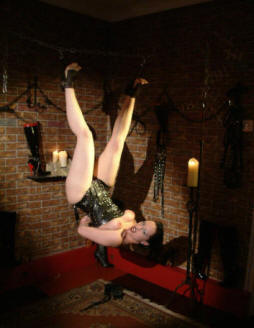 Some quick feedback to extol the virtues of this fantastic dungeon and associated rooms. It's rare as a Film Director to walk into a location that instantly gives you a good feeling and importantly, is perfect pictorially.
Master Alex whom I was filming for Princess Spider's new TV series "Dominatrix Reloaded" looked every bit at home as he set to with his array of whips on the diminutive and horny Vixen. Filming always tends to bring out a touch of humour... and Alex appeared to have more than a bit of trouble trying to say... " this one is just a bit stiffer".
If you had seen Vixen hanging upside down and being skilfully thrashed then it's not difficult to see what he was referring to.
Even Princess Spider was tempted to use her trusty purple flogger.
Thanks for a great day.... I feel sure I will return....