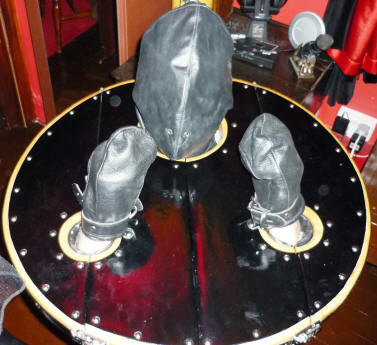 This most bizarre creation of our Fetish Craft range can be used as a yoke or table objectification scene.

It's not easy being a table. This solid sturdy device locks around the neck and wrists and is totally escape proof. In the "serving selection" illustrated above it is being used with bondage Mitts and Isolartion Hood (Both available as part of your hire)

The Fetish Craft Range is a collection of Top Class BDSM equipment which is uniquely show-cased throughout the Dungeon, specifically commissioned by LDH, and not available anywhere else.

LDH hirers can enjoy the full Fetish Craft Range all included in their hire.