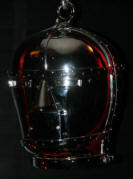 This magnificent nickel plated heavy metal full face hood is hinged at the top and secures with two bolts at the bottom.
The eye slits can slide open if required.
This item was commissioned from Fetters and is a beautifully made hand crafted magnificent collectors item, another addition to our unique Fetish Craft range.
This will provide "full on" total captivity. If combined with the many other bondage opportunities at LDH will give an experience beyond your wildest dreams